The 2021 Subaru Love Promise Customer Commitment Award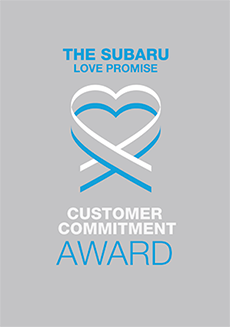 We've been nationally recognized for our dedication to our customers and the Subaru Love Promise.
We're honored to receive the 2021 Subaru Love Promise Customer Commitment Award. This award nationally recognizes Subaru retailers who demonstrate excellence in all areas of customer-focused performance. It highlights exceptional customer service that builds lifelong relationships with Subaru owners.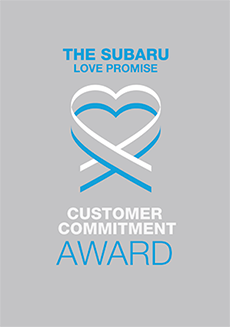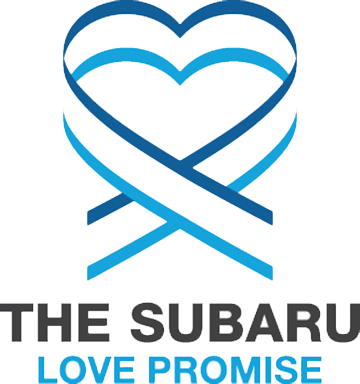 What is the Subaru Love Promise?
Subaru and our retailers believe in making the world a better place and the Subaru Love Promise is our vision of respecting all people. This is our commitment to show love and respect to our customers and to work to make a positive impact in the world.
How is Stewart Subaru dedicated locally to the Love Promise?
Our Love Promise can be seen in various partnerships with local charities and non-profits. We're grateful for the opportunity, not only to be a part of our community, but to serve it as well.
Central Washington University
Love Promise Stories from Stewart Subaru
Subaru and Stewart Subaru believe in making a positive impact on the communities in which we live and work. We uphold that belief through our Love Promise Community Commitment. Every month, we select inspiring stories from customers and partners from around our area who strive to support our collective commitment and feature them here
Merlin - Sheryl H
On August 28th, 2020 a concerned citizen found a kitten by itself in downtown Yakima. They were very kind and brought it into the YHS spay and neuter clinic. He had a fungal infection that caused him to need treatment for almost 2 months. He lost almost all his hair and even caused some scarring around his eyes and face from all the scratching. Once "8ball' now known as Merlin was healthy he was transported to the adoption center where the whole staff fell in love right away. Despite his winning personality and amazing looks, Merlin was not getting any adoption interest as there were to many "cute" kittens at the facility at that time. Then one fateful day the Humane Society's pest control specialist came in while a staff member was cuddling Merlin. Like everyone else, he quickly fell in love and immediately took a picture and arranged to have his wife come in and meet Merlin. She was so excited just from the photo that she even gave him his new name before she even got to the humane society to meet him. Merlin is now a loved and valued member of his new family. While all the YHS staff members miss his cuddles, they are all very happy that he found is fur-ever home.
---
Blanket Delivery to North Star Lodge - Rosalea B
On July 22, 2019, Stewart Subaru partnered with the Leukemia & Lymphoma Society and donated more than 60 blankets and a box full of art kits to the North Star Lodge for cancer patients. The Leukemia & Lymphoma Society exists to cure blood cancer and help improve the quality of life of patients and their families and this partnership helps bring comfort to cancer patients from the rigors of cancer treatment. Upon arrival, several North Star Employees came out to help Becky Simmons from Subaru, with the transport and set up of the display awaiting patients as they entered in the cancer center for treatment. Amy Steingas of North Star Lodge expressed gratitude for the beautiful blankets that Stewart Subaru has provided for their patients for the last four years. The employees of North Star also expressed gratitude for the art kits which they said the "kids always love". Most of the kits were taken to the children's center to be handed out while others waited in the lobby to hand out the blankets and brighten a patient's day. Thank you to Stewart Subaru for giving back to the Yakima community and for helping the LLS further our mission.
---
Stewart Subaru Cares for Yakima Cancer Patients - Kelli F
The Leukemia & Lymphoma Society – Washington/Alaska Chapter was thrilled to partner with Stewart Subaru in Yakima, Washington for the Subaru Love to Care program to deliver blankets and words of hope to North Star Lodge. The Leukemia & Lymphoma Society exists to find cures for cancer and improve the quality of life of cancer patients and their families and Subaru helps LLS by donating critical research dollars. Becky Simmons from Stewart Subaru delivered 80 blankets and set them up in a beautiful display in the lobby of North Star Lodge treatment center. Many of the nurses came out to thank Becky and Stewart Subaru for partnering for North Star Lodge for the third year in a row, commenting that the patients look forward to the beautiful and warm blankets each year. As we chatted with the nurses about the treatment patients are undergoing at North Star Lodge, an elderly woman asked if the blankets on display were the new Subaru blankets for 2018. She was delighted to be the first recipient of a blanket and care card with words of hope from Stewart Subaru. We were honored to provide her with a blanket and wish her well in her cancer journey. We are so grateful to Subaru for bringing a little hope and joy to cancer patients in Yakima, Washington.
---
Stewart Subaru Shares the Love at North Star Lodge - Anne G
North Star Lodge, a cancer treatment center located in Yakima, was the grateful recipient of 80 individually wrapped blue lap blankets for patients and an additional 20 craft kits for kids who visit loved ones being treated at the facility. These items were generously donated by Stewart Subaru as part of the Subaru Loves to Care campaign in partnership with the Leukemia & Lymphoma Society. The mission of LLS is to cure leukemia, lymphoma, Hodgkin's disease and myeloma and to improve the quality of life for patients and their families. During the month of June, customers who visited Stewart Subaru wrote messages of hope and support on cards that were delivered along with the blankets and craft kits. This is the second year that North Star Lodge has received a gift of blankets from Subaru and just like last year, oncology nurses and other staff members from North Star Lodge expressed their appreciation for this gift, assuring us that the blankets would be distributed right away to patients visiting the clinic. They also noted that having craft activity items for kids to help them pass the time while visiting sick friends and family was a wonderful addition to the Subaru Loves to Care program.
---
Mirabel the Love Promise miracle - YAKIMA HUMANE SOCIETY S
This story is about Mirabel, but it is also about all the animals we help at the shelter every day. Mirabel is a female, Domestic Shorthair mix cat that was dropped off at the Yakima Humane Society shelter by a Good Samaritan. Mirabel was found lost and alone in the street. She was tired, thirsty and extremely pregnant. Mirabel needed some special care in these circumstances. After a medical okay and the assurance her kittens were doing fine, it was clear Mirabel needed a quiet place to recover her strength and to deliver her babies. After a couple of weeks in foster care, Mirabel did deliver her 4 healthy kittens. They are growing fast and will be ready for adoption very soon! Dogs and cats arrive sick, starving, injured and very alone. Some pets arrive at the shelter needing urgent veterinary medical attention to set a broken leg or suture an open wound. Other pets require medication to help them recover from an upper respiratory virus. And others just need to know they will be okay with rest and proper nutrition. All of this is made possible with our YHS Emergency Medical Fund. We spend over $12,000 a month on veterinary care for the homeless animals in the shelter. Being chosen as Stewart Subaru's hometown charity has been such a vital gift and has helped us care for over 6000 homeless dogs and cats that arrive at our shelter each year, just like Mirabel. Thank you Stewart Subaru!
---
Butterfly Super Heroes - Ellensburg C
Ellensburg Christian School has taken the Subaru Butterly Heroes movement to a new level. Not only are they planting thousands of milkweed seeds to encourage the Monarchs to return they are also building a display case in the school hallways to bring awareness for all to see. The kids are so excited that they are taking this awareness into their homes where they are planting butterfly friendly habitats in their own back yards. By next year they hope to see the Monarch Butterly population take over their small town of Ellensburg, Wa. Ellensburg Christian School students are Butterfly Super Heroes.
---
Stewart Subaru helps put Yakima on the map! - Celisa H
Cowiche Canyon Conservancy is committed to making a positive impact in our community, to making the world a better place, just like Subaru. We do that by protecting the remaining wild lands in our community and making them available for people to get out and experience the wonder of nature. Cowiche Canyon Conservancy is thrilled to have Stewart Subaru as a sponsor for our annual fundraiser, Cowiche Canyon Rocks. This sponsorship helps provide the support we need to create and maintain trails for outdoor recreation hiking, biking, snowshoeing, cross country skiing, and horseback riding. It funds our education and community outreach program that offers a variety of ways for people to learn about this landscape and connect with it in a meaningful way. We are grateful for the support of Stewart Subaru and for your commitment to putting Yakima on the map as an awesome place to live and play outdoors! Thank you for sharing the love. Happy trails. Celisa Hopkins Cowiche Canyon Conservancy
---
Barktoberfest - Nicole P
On October 30th 2015 Stewart Subaru teamed up with the Yakima Humane Society for our annual adoption event. Barktoberfest was a huge success as 3 sweet pups found new homes! Stewart Subaru donated gifts and and paid for all adoption fees for the new dog owners. The Yakima Humane Society is our home town charity this year. Stewart Subaru along with Subaru of America look forward to raising thousands of dollars to support our local shelter.
---
Cooper's Thank You To Stewart Subaru - Nicole P
Everyone at the Yakima Humane Society, from the staff to our great volunteers wants to say Thank You to Stewart Subaru for choosing our organization as a Subaru Hometown Charity and the fabulous donation of nearly $15,000.00. We want to share a story how these monies helped save the life of a small dog named Cooper. Cooper was rushed to the Yakima Humane Society by Animal Control from Sunnyside. A victim of a possible hit-by-car, Cooper was severely injured and having extreme difficulty in breathing. Little Cooper was unable to take a breath and get the oxygen he desperately needed. His torn esophagus had to be repaired right away. The large scar down his belly is an amazing badge of courage for such a small, sweet puppy. Cooper is recovering currently in a foster home soaking up the TLC and love. Yakima Humane Society has been committed to reducing pet overpopulation and caring for the over 7600 animals that arrive at our shelter every year. Some of these dogs and cats arrive injured or very sick. The charitable donation from the Subaru Share the Love Hometown Charity Event helps us save these lives! Thank You!
---
Stewart Subaru supports CWU - Jason R
Stewart Subaru of Yakima Washington is literally bringing Central Washington University to thousands of people every day. A partnership between the dealership and university started with a single wrapped 2014 Subaru Outback, which bears Wildcat and Stewart Subaru logos, along with other university identification and markings. CWU's new head football coach Ian Shoemaker uses it for recruiting trips and other business purposes, lessening the impact on the athletic department budget. Dennis Francois, CWU athletics director, said, "It certainly has helped us gain additional notoriety in our region and throughout the state. Subaru has made a big impact on our outreach efforts." Stewart Subaru was established in 1995 on the philosophy of offering top-quality products at a fair price, while providing excellent service before, during and after a sale. This philosophy has propelled the dealership to back-to-back record-breaking sales years. Subaru's success is in line with the success of the CWU Foundation, which continues to raise more money and gain more donors each year in support of the university's students. The partnership is truly what Subaru's "Love Promise" is all about.
---
E-Waste Recyling Event - Sean J
Stewart Subaru was able to rally the local Yakima community for a successful E-Waste event. People took advantage of the free drop off for their unwanted electronic devices. Our goal was to bring more awareness to the importance of recycling in every area of our lives and we believe that was achieved with the E-Waste event.
---
Stewart Subaru Helps Present "Downtown Summer Nights" Events - Davick L
Stewart Subaru along with the City of Yakima and Townsquare Media presented a series of special family events called "Downtown Summer Nights." The 11 week event took place in downtown Yakima every Thursday evening from 5pm-9pm and was free of charge to all ages. "Downtown Summer Nights" included live music,dancing in the street, free activities for the kids,vendors, and food and drink. The event showcased musical talent from all over the Pacific Northwest and brought the community together in a fun, family friendly environment. Thousands of people gathered throughout the 11 week event and thanks to Stewart Subaru it was a great opportunity for our community to come out and celebrate the summer in Yakima.
---